Newspaper Article of Awesomeness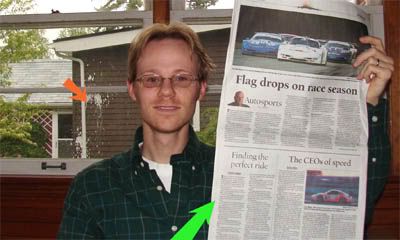 Yay me!
About six weeks ago I submitted an article to our local, 100,000+ circulation newspaper. The publisher himself called me to tell me that he really liked what I had written, and he would decide shortly if they were going to run it.
Well,
they decided. And today, on page 12 of the Wheels section, it ran.
I've slowly made my way
into the freelance writing world with an article published in the ultra-glossy
DeLorean World Magazine
along with some photos, but this is the first newspaper article I've had published, so I'm pretty darn proud of myself.
So here I am
, holding this morning's newspaper in my sunroom. The green arrow points to my near-quarter-page article, while the orange arrow points to a massive splatter of bird shit.
Enjoy my article on car modifications:
Turbo or body kit? Performance exhaust or lowering springs? Nitrous or cross-drilled rotors? For those looking to modify their rides, the choices are nearly endless. But even if you want it all, you have to start somewhere.

If you think a set of 18 or 20 inch rims is a good place to start, you'd be right on the money.

A sweet set of summer wheels not only makes your car stand out in a crowd, but it's also a wise investment.Although $3,000 might seem like a lot to spend on a wheel and tire package, with two sets of wheels and tires swapping places every six months, your rubber will last twice as long as a single set of all-season radials.

Mounting snow tires to the OEM wheels will allow your car to maintain factory good looks through the winter months. When summer rolls around, it's time to bolt on those summer rims, which never saw the harsh winter salt.

But it doesn't stop there. For show or go, lowering springs, starting around $300, offer the best of both worlds. In only a couple of hours, even those with little or no experience can drop their cars 2 inches, increasing cornering speeds and eliminating that unsightly fender gap.

Other aftermarket products range from simple bolt-on applications such as strut tower braces, to complicated sequential turbo systems that require serious tuning. That's when it's time to turn to the experts, like Mike Diell of D.L. Motorsports in Burlington.

Since first opening his performance shop in 1997 Diell has worked on everything from Dodge Caravans to DeLoreans. He has also spent some time fine tuning a twin-turbo Ferrari Testarossa. But in the last five or six years, he has noticed some changes. "I used to do a lot of lowering jobs, but people tend to do that themselves."

"Now I focus more on the tuning aspect."

For huge boosts in power, turbos are becoming one of the most popular upgrades. Walking around his shop, I was impressed by an MR2 that was running 1,000cc injectors. To understand just how big 1,000cc's is, in the late 90s a twin turbo Toyota Supra rolled out of the factory with huge 550cc injectors.

When I asked him about the car, Diell said that in order to meet the turbo's fuel demands many of his customers have begun swapping their factory injectors for larger ones, and using piggyback fuel computers to control them, such as the new e-manage system from GReddy.

It's one of the least complicated fuel management systems available, and allows the user to compensate for larger injectors, turbos, and camshaft changes.

As more and more DIYers start taking on the work themselves, Diell has found a niche tuning their engines, ensuring they run strong and don't grenade. And, with one of the only dynos around, tuning highly modified cars is a major part of his business.

Whether you do the work yourself, or find a capable mechanic you trust, one thing is clear: horsepower is not the only thing that's addictive. Transform your ride into something unique and heads will definitely turn, whether its at the dragstrip, or in a parking lot.