The Bricklin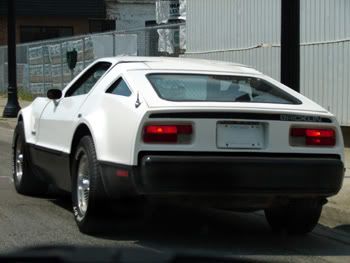 The weather
has been so fantabulous lately that the streets are overflowing with slippery collector cars blinding me with their wax-jobs. And I was lucky enough to snap a couple of pictures of this awesome Bricklin SV-1 the other day. But why is the Bricklin so awesome? Partially because it's Canadian-built, and partially because it's kinda like the DeLorean's long-lost twin.
In fact
, the similarities between Malcolm Bricklin's creation and the DeLorean are undeniably bizarre.
You think
I'm on crack? Well, I'll tell you who's on crack - Those crackheads who regularly mistake
my DeLorean
for a Bricklin simply because they share the same exotic gull-wing door feature.
But
that's not even the half of it. Both the Bricklin SV-1 and the DeLorean DMC-12 were designed primarily as "safety vehicles" with impressive, ahead-of-their-time life-saving devices.
The 'SV'
in Bricklin's SV-1 actually stands for Safety Vehicle, and the DMC-12 was originally named the DeLorean DSV, or DeLorean Safety Vehicle. Sadly, some of the DeLorean's safety features, like airbags, did not materialize on production cars. But others, such as side-impact bulkheads that protect passenger's hips and lower torso have been recently adopted by Volvo.
The similarities continue
with the fact that both cars were 2-seater rear-wheel-drive sports cars that came with amazing, ground-breaking standard features such as a see-through windshield, tires, a wheel for changing directions, and the reverse gear, which came in handy when trapped inside a garage or horse trailer.
The final similarity
is how both companies failed - Bricklin after producing approximately 2,857 nifty vehicles, Delorean after producing around 8,700. Which makes Mercedes-Benz the only mainstream company to still exist, that once offered a factory-built gull-wing door car.
People seem
to either love or hate the Bricklin. The one I saw here had ill-fitting doors, but otherwise looked immaculate. Although the exterior is deadly, I've never really been a
huge
fan. Upon viewing the vomit-coloured interior option borne of the 70s, (which is totally cool in a bizarrely retro way) some fans become non-fans. Still, the Bricklin is a totally awesome car, at least on the exterior, and a super-radical collector car due to its low production run.
But
people are all entitled to their opinions (even if they're crazy).
I've been told
by uninformed people that my car is an interesting part of Canadian history. I've been told that I had been ripped off because my DeLorean didn't have the original 351 Ford V-8 or the AMC 360. I've even been corrected, and told that my car was built in New Brunswick, not Ireland. And I've been told that the Staypuff Marshmallow man and Bib, the Michelin Man, are the same guy.
It's quite strange
what people tell me.