Home Made Cotton Candy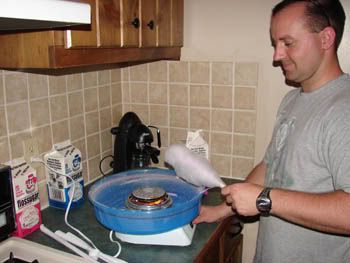 My buddy
, ST3 celebrated his birthday by moving into his new house, tearing down trees and overgrown bushes, and making treats for me and Suz.
ST3 loves his toys
. And currently, all his toys are of the carnival food nature. Okay, that statement is sort of an oxymoron. It's actually
non-food
, as nothing you eat at a carnival constitutes nourishment.
One
of his greatest carnival food toys is his Cotton Candy machine. And yes, it makes REAL cotton candy, or candy floss, if you prefer.
The thing
that surprised me most is how many flavours of Cotton Candy there are. I bet you always thought there were two: Pink and Blue. But there are actually 11 different flavours including coconut, watermelon, banana, and lime.
ST3 was able
to acquire most of these flavours, and we happily tested their yum-factor on his birthday. There were no clowns squirting water in people's faces, or any wack-a-mole games offering dollar-store prizes. But the cotton candy cartons themselves offered a great amount of amusement.
I'll bet
you never thought you'd be eating
Silly-Nilly
Cotton Candy. But perhaps you know it better by the name "Pink Vanilla". Or maybe not. The names aren't advertised anywhere. Maybe because they're so goofball. Consider "Grape" flavoured cotton candy, also known as
Spookie-Fruiti
to Carnies. Yes, Grape is Spooky.
And don't forget
these
Helpful hints for profitable floss operation:
Do not add sugar when motor is running.

Decrease heat whenever you smell sugar burning.

Keep Floss Display Racks full at all times.

Recommend multiple take-home sales.

Recommend
multiple take-home sales? I don't think the Cotton Candy industry needs high pressure salespeople learning tips and tactics off the side of the carton. Do they really need to convince kids to take home multiple bags of its glorious sugaryness? Ummm, no.