Discontinued Breyers Ice Cream?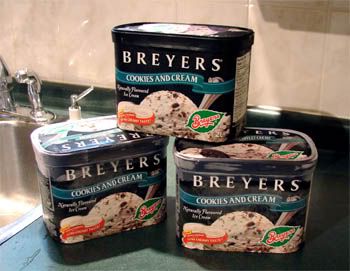 The question posed:
Has Breyers discontinued their mega-creamy Cookies and Cream ice cream, along with a number of other 'Naturally Flavoured' ice cream products?
Let's look
at the evidence. Local Barn Markets across the land have posted professional-looking signs stating Breyer's Cookies 'n Cream ice cream has been discontinued. The Barn, famous for high prices, even lowered the price of the discontinued ice cream by $2.00, allowing panic-stricken ice cream lovers to pick up the remaining cartons for $5.19.
And that
is precisely what Suz did when she saw the 'discontinued' sign on my favourite ice cream.
"Wait a second,"
you're asking.
"Did you just say that was your favourite ice cream? I thought you hated it! You even wrote a letter!"
It's almost true.
Although I was extremely disappointed, almost to the point of horrification, at Breyer's recipe-change, I could not find another ice cream that I loved. Loved so dearly. So completely. So deeply. So, like a person raised on 1% milk eventually gets used to 2% if they drink it long enough, I became accustomed to the creamy new recipe.
Upset
, I decided to go straight to the horse's mouth, and ask Breyers why they discontinued their Cookies and Cream ice cream. Here is the response that 'Eeeped' into my inbox:
------------
June 1, 2006

Dear Mr. Martini
Thank you very much for contacting us regarding the availability of Breyers® Cookies and Cream Ice Cream.

The product you are inquiring about has not been discontinued. Every grocery store nationwide is presented our entire portfolio of products. Unfortunately, not all of the stores take all of our products. Usually the decision is left up to the category buyer of that particular account. The more people that request a particular product, the more likely the store will stock their shelves with it. So you may want to ask your store to carry this product or special order it for you. The UPC or order number is 58779-77659. You can also check the store locater on our web site for information on where the product is available in your area.

Thank you
-----------
That's right.
The Barn has been lying to its customers! And to make things even worse, this week, their shelves are overflowing with the very same ice cream they claimed existed no longer. And the 'Discontinued' signs have all been removed.
So what
kind of game are they playing? Is this some sort of wacky ice cream conspiracy? There is only one logical answer to this illogical behaviour: The Barn has been overtaken by the government of Canada.