Me vs. The Raccoons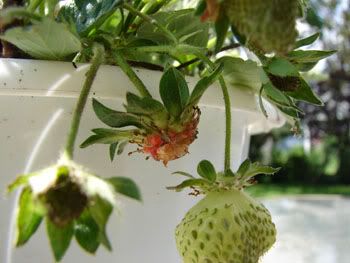 I have a strawberry bush.
It supplies me with sweet berries... If only I had a chance to eat them.
Out of
the last 8 straweberries that have ripened to full juiciness I have only tasted one damn berry because of a group of repugnant Raccoons who've been climbing onto my patio set at night and feasting upon the fruits of my labours.
When
the first red strawberry went missing, I thought maybe some squirrel brothers had eaten it. But upon further investigating, I found that the strawberry went missing during the night, when the squirrels were dozing in their Nutco® Squirrel Bunkbeds.
I decided
not to get upset. After all, there were 7 more strawberries on the verge of full, sweet ripeness, ready to devour. Plus, squirrels are super cute. So how could I get mad at them?
The next night
my strawberry bush was under full seige while I slept, unaware of the devastation happening in my own backyard. It wasn't until the next morning that I saw the carnage to my poor fruit-bearing bush.
But
they were sloppy this time. They left clues. Along with the SEVEN FREAKING ripe strawberries they ate, they plastered their muddy paw prints all over our table, and the side of our garbage can. It was confirmed - Raccoons! And they had brought reinforcements to finish off the sweet, sweet fruit. Those tender berries didn't stand a chance against those tiny 'coon paws.
They only swallowed
the most rounder-est, ripest strawberries, which seems to go against the common perception that raccoons will eat anything, including repulsive rotting refuse. Proof of this was the green one with a single small test bite.
With nothing
but green berries left, I decided the best thing to do was put the plastic pot inside our sunroom at night, then place it back on the patio during the day. My plans for planting it in the garden went out the window.
I have
only eaten one strawberry since first purchasing the plant for about $8. That is one darn expensive strawberry.