The DeLorean Prototype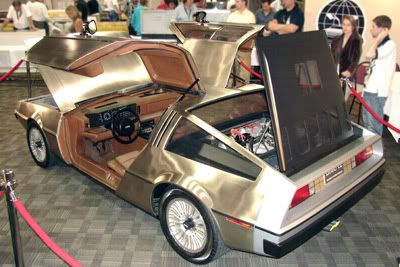 I'm one
year old today, and because of
how it all began
, what better way to celebrate my blog's 1st anniversary than to showcase the DeLorean Prototype that graced the carpeted floors of the DuPage Expo centre at
DCS 2006
, after being 'lost' for 20 years in Bill Yacobozzi's garage.
This blog
was originally intended to chronicle my DeLorean-related adventures, but since they are few and far between, I've found other interesting and personal things to write about in times of DMC drought.
The DeLorean Prototype
unveiled at the 25th anniversary of the DeLorean was Prototype 1. There were a couple others, but this was the original. It was purchased by Tony Ierardi in 2004 for an undisclosed price, but estimated at about $102,000 U.S.
Tony spent two years
restoring the car to its current super-awesome condition. According to Tony, parts had to be carefully disassembled and restored, as most components on the car a)have no replacements available, and b)were not designed to be taken apart.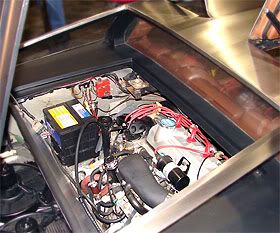 The engine
is still rear-mounted, and still French, however, it's not the familiar PRV V-6 that were used in production cars. I asked Tony about it. It's a 4 cylinder kickass Citroen engine, pumping out an economic 102 horsepower.
Okay, okay while 102 horsepower might seem utterly sad, the car only weighs 2,200 lbs, so it accelerates at approximately the same rate as the production cars according to Tony, who owns
DeLorean Motor Company Florida
.
The Prototype
is insured for half a million dollars, and Tony is not allowed to drive it. Personally, I wouldn't be able to resist. I'd be as nervous as George Dubya in hell, but I'd simply
have
to drive it.
Although
the stainless body panels and wheels are relatively different than those on the production DeLoreans, it's the interior that is the most drastically different. A sharp orangy tan, a go-kart-esque steering wheel, seats with tan fabric inserts, and a padded dashboard shelf are strikingly odd.
John DeLorean's daughter, Kathryn, knelt beside the driver's door and admired her father's work as I took her photo from the opposite side, through the open doors.
Prototype one
is a one-of-a-kind part of automotive history that deserves every ounce of energy Tony has poured into her. All DeLorean owners should feel proud that Tony has restored the mother of their beloved DMC-12s.