I Found Ten Dollars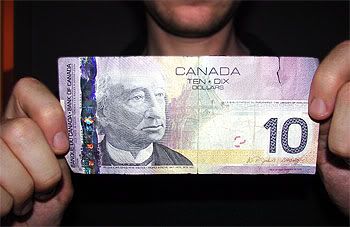 With Suz's bro
in town, we needed to do something neat-o instead of hanging around watching TV. So we all decided to see
Superman Returns
at the Super-Mega-UltraPlex.
If you're expecting
a review of the movie, sorry. Okay, okay, if you haven't seen Superman Returns yet, here are a couple of tidbits: The CG is extremely good, unlike 99% of all movies that use it. In terms of CG, My biggest qualm was Supes' cape. The glossy CG cape was lameass, and looked practically like leather. Don't expect a big action-packed blockbuster here. The movie is more soap operaish. However, the plane scene: PHE. NOM. E. NAL.
When the show ended
at roughly 1 a.m., the herd of moviegoers exited the theatre and poured into the washrooms, which left us at the front of the pack. Right in front of the desolate exit doors I saw a nice purple 10 dollar bill laying on the floor. I picked it up and smiled. "
This just paid for my movie ticket,
" I thought.
The 10 dollar bill
has a picture of Sir John A. MacDonald on it. This Scotland-born dude was Canada's very first Prime Minister, from 1867 to 1873. Even through personal tragedy, he worked very hard to build our country. In 1878 he was reelected and served as Prime Minister until 1891. He died, while still in office, June 6, 1891.
I'm glad
I found 10 dollars. Sir John A. probably wouldn't approve, but I'm going to spend my 10 dollars on candy. He can't stop me. He's dead.