An Injured Bird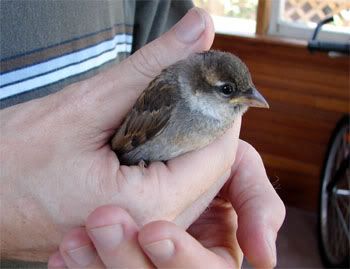 Who
would have thought that the simple act of opening their back door would result in the chaos that could inspire an Itchy & Scratchy script? Not me. That's who.
Upon opening
my back door to allow the kitties to romp in the grass, I unleashed a murderous black beast, known as
Roner.
She scampered down the hot concrete stairs, chasing a hopping brown blur. The blur turned out to be an injured bird.
After a brief chase
, I was able to catch the bird. I don't know what kind of bird this is. I'm totally dense when it comes to these common brown birds. There are just so many, and they're so boring, that I've never been inspired to learn what any of them are. Suzanne told me what it was, and the word sparrow faintly drifts through my grey matter, but now I can't remember what she said. It might be old age setting in. I
am
30 after all.
I brought
the bird inside to surprise Suz. I named him Sir Birdington. I showed Suz the reason why he was hopping instead of flying. His wing wasn't exactly broken, but it appeared as though the muscles had torn away from the side of his body. There was a round spot of exposed, dry muscle, about the size of a quarter. There was no blood.
Sir Birdington
squirmed and squiggled. It was difficult to hold onto him so I dropped him into our sink, where he sat contently. I was hoping he would drink some water out of the ice cream scoop, but he decided to stand on the giant spoon instead, with his left wing hanging low.
We had recently
been to the vet because stupid Roner went and got her ears all bit to hell by mosquitoes. She scratched until she bled and we didn't know what was going on. The vet sold us a tiny tube of (insert scientific word here) which is a steroid and antibiotic specifically manufactured for animal use. We glopped some of this goo onto Sir Birdington's exposed muscle and I walked into the back sunroom, heading towards the back door.
Disaster!
Sir Birdington shot out of my hands like a wet bar of soap and plopped onto the floor inches from Roner's face.... and I have (almost) never seen anything so scary in my life.
It took 0.2 seconds
for Roner's eyes to turn solid black and her claws to shoot 5 inches out of her paws, as she transformed into some bulging werewolf-like panther-thing. Sir Birdington frantically hopped into the corner while Roner pounced. Death was immenent. I lunged at the same moment, and grabbed her normally flabby body directly out of the air. Her claws dug in and she squirmed free and charged again. I grabbed her again, fearing there would be a revolting decapitation in the next moment, and squeezed. Her claws scrambled and she flailed around erratically.
Holding her
away from my body, like a baby who was just about to blow milk chunks everywhere, I tossed her into the back hall and closed the door. Sir Birdington was saved! I set him outside and let him hop through the fence into my neighbour's sanctuary-like yard, loaded with bird feeders and other birds.
The SPCA
told us they would have simply put the bird to sleep if they came out there. So we did what we could and we now hope for the best. I'm pretty doubtful the poor bird will live. I think we only postponed the inevitable. How do you save an injured bird?