Twix Ice Cream Review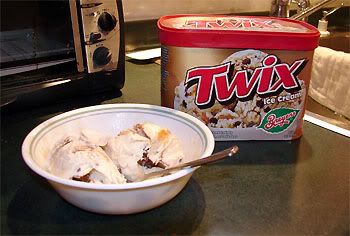 Twix has always
been my favourite chocolate bar, followed closely by
Cadbury's Crunchie
. And Breyer's, in recent years, has become my favourite ice cream. So what happens when an 18-wheeler full of Breyers Vanilla ice cream collides with a transport truck full of Twix bars? No, not two dead truckers.....
Twix Ice Cream.I bought
this carton of Twix ice cream on sale for $3.99. The regular price is well above $5, so this sale price was a deal. However, it's not quite as good of a deal as one might think. Yes, the price is great, but a close inspection of the carton reveals that it's not the standard 2 litre container. Nope, it's only 1.89 litres, and that's how they get you.
Regardless
of the size of the carton, it's still full of sweet, cold Twix ice cream. The packaging reads "
Vanilla Ice Cream with TWIX® Caramel Cookie Bar Chunks, Caramel and Fudge Swirls, and Cookie Pieces
"
As a lover
of packaging, I usually spend a few minutes admiring the artwork and reading even the most unimportant print. But not this time. Before I could even get the carton out of the grocery bag, I was digging in. As an ice cream junkie, the withdrawl is unbearable.
The jitters
soon stopped and I was able to control myself long enough to inspect the ice cream properly. Here's what I discovered:
Twix ice cream
is mostly standard, non-all-natural vanilla ice cream. Which is fine. Because Breyers makes some damn good ice cream. Throughout the vanilla swirls a stream of goopy caramel. Alongside the caramel is a thin swirl of fudge. Mmmm, fudge-a-mo! And deeper inside the ice cream are many small balls of Twix cookie.
There are
no cookie bar chunks AND cookie pieces. There are only these cookie balls. Breyers seems to have named the same thing twice, tricking consumers into thinking there's more in the box. But it doesn't really matter, as there are balls-a-plenty, coated in chocolate to prevent the ice cream from penetrating the cookie and sogging it all up.
If you're lucky enough
to get all four sweet ingredients in your mouth at the same time, you will explode with joy. Unless you hate Twix bars. In which case I ask you: why are you eating this ice cream, you twit? On the other hand, if you don't get all four ingredients into your mouth at the same time, you might be disappointed. It doesn't taste like Twix unless you have everything in your mouth. In fact, most of the time you'll just get a great big mouthful of plain vanilla, which is fine if you like vanilla.
But be patient.
The bottom of the carton holds the treasure. At least mine did. The entire bottom was full of Twix cookie balls and the chocolate ribbon. It was like eating freezing cold Twix bars! Which is another reason I loved this ice cream so much.
Whenever
I buy a chocolate bar, I stick it in the fridge for a few hours first. In fact, I do that with almost everything. Cold food just tastes better. If Breyers were to make vanilla ice cream with brussell sprout swirls, I'd probably love it. I know. I'm weird. Deal with it.
-----------------
Also, check out this
Skor ice cream review
.