Why The Geese Died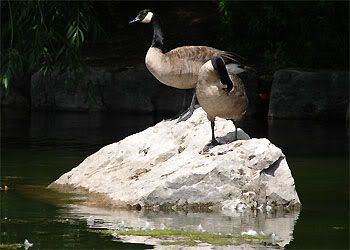 Sometimes
I'm wrong, and sometimes I'm right. I was wrong about
Chocolate Lucky Charms
, but I was right about the
dead Canada Geese
that I wrote about two weeks ago. Pesticides did not kill the 14 Canada Geese and ducks that died so tragically that weekend.
The "experts"
suspected the birds had eaten grass soaked in pesticides. I am not an expert, but I knew this was practically impossible. Why? Because I use a thing called logic.
First of all
, what are the odds that the 14 Canada Geese and ducks happened across some tasty grass which had, just minutes earlier, been sprayed with pesticides? I'm going to be extremely conservative here and say it's 1 in 1,000 - assuming that, out of about half a million people in the surrounding area, a mere 1,000 of them sprayed pesticides on their properties that day.
Now
, what are the chances that those same 14 Canada Geese and ducks who ate the above-mentioned deathgrass flew to the exact same location and then began dying? Let's say that's also 1 in 1,000.
And finally
, what are the chances that I could get a guest-spot on
Lost
?
Okay, seriously
now. What are the odds that
both
of these events happened? No, it's not 1 in 2,000. It's actually 1 in 1,000,000. Yes, one in
one million
. Here's how you do it (according to
Jodster
, who only got a 52 in grade 11 math). You take 1,000 and multiply it by 1,000 to get the correct, combined odds.
One in a million?
Yup. Now check this out: The odds of you being struck by lightning in your lifetime are 1 in 5,000. Yes, you read that correctly. If you don't believe me, check it out
here.
The odds of fataly slipping in the shower are 1 in 2,232. The odds of getting Hemmorhoids? 25 to 1. Odds of having your identity stolen? 1 in 200.
So much
for the experts.
Tests were conducted
on the dead birds last week, proving my correctness. The tests were done at the University of Guelph by Dr. Doug Campbell. The tests ruled out pesticides as well as many viruses. There was no conclusive result, however, it is strongly believed that Botulism, specifically type C, killed the Canada Geese and the ducks. Botulism is caused by bacteria which produces a nerve toxin that paralyses muscles, which explains why the Geese could not keep their heads above the water.
Humans
are unaffected by type C botulism. But sadly, adorable little fluffy guys like
this gosling
are, and there's nothing we can do about it.