Moving A Mustang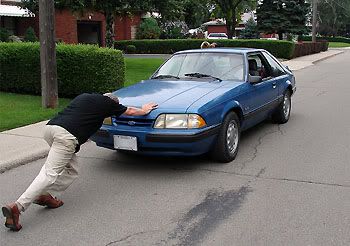 In the blazing heat
of the weekend sun, the first episode of Martini's Man vs. Machine took place between a 1989 Ford Mustang LX, with 225+ hp and 300 lb-ft. of torque.... and a man.
It's a no-brainer
who would win this battle under normal circumstances, but take the Mustang's fuel pump out of the equation and there are far less broken bones splattered in blood. With no way to propel its 2,800-lb. body towards the puny man, the Mustang is helpless.
My old friend
Ton-Ton was storing his high-powered 17-year-old toy in his grandma's daughter's mom's neighbours' garage. But the time came for the Mustang to move into his grandma's garage instead. That time happened to be the blistering hot weekend. And with no fuel pump, there was much pushing involved.
I stood
on the pavement and blocked the road so that local traffic wouldn't interfere. With a little momentum, the Mustang rolled well on its ancient, cracked tires. When things started to slow down, Ton-Ton's dad jumped in to keep things rolling.
I had
successfully blocked zero vehicles and proudly walked up the driveway, where everyone struggled to keep the Mustang from sliding back onto the road. The consensus was that I weighed the least and, therefore, should sit in the car and steer it into the garage using the Mustang's useless, Twinkie-sized mirrors to avoid smashing into the garage door frame.
Keeping casualties
at a minimum, I removed a large black ant from the path of the car, hopped in and released the parking brake. My whip cracked as my slaves pushed with all their might. The Mustang hit the lip of the garage's concrete floor and stopped. "PUUUUSH!" I bellowed, as I cracked my whip again. The car rocked, but did not advance. Again I commanded the three to push. I felt a small bump as the splitting tires boinged over the threshold.
On our
hands and knees we pulled a blue plastic tarp under the car to catch any oil that might drip in the next few months. We continued the pulling action by yanking a grey car-cover over the Mustang to keep dust from getting out and dirtying up the garage. Or vice versa. I'm not sure.
With the mission accomplished
, Ton-Ton and I went into his grandma's wood-panelled basement to play with G.I. Joe's, Transformers and
Alpha Probe!!