Cake Rules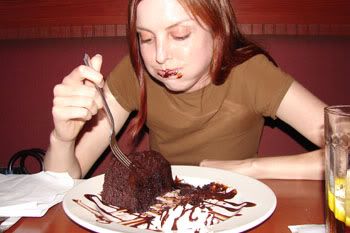 There's a rule
in my car: No food. Ever. Suz has always thought that was a crazy rule, but then again, I'm a pretty crazy guy.
Last night
we celebrated. After temporarily filling a supervisory position for two years, Suz was finally given the official corporate thumbs up. The job is now hers. We decided this was cause to spend some green, and so began our night o' fun, aka the night o' disaster.
When we finished
our Casey's meals we ordered dessert. Had I weighed the piece of chocolate cake that Suz got, I wouldn't be suprised if it hit double digits on the scale. The thing was massive. It was the size of a baby. You could see it from space. It could have fed a starving Ethiopian village for a decade. Do you get what I'm saying? It's size was large in nature.
Knowing
she was going to order this cake, Suz specifically ate a small amount of dinner, saving room for the beheomoth cake. The remainder of her weird Teriyaki/Szechwan/Noodle thingy was placed into a styroafoam container. However, this doggy bag was not destined to survive.
Soon realizing
that complete consumption of the cake would likely blow an internal gasket, Suz stopped eating. She barely finished 1/3 of it. The cake was also placed in a doggy bag. The two styroafoam containers were stacked in a plastic bag, we paid our bill and left.
Outside, the rain
caught us by surprise. But we got in the car with minimal wetness and I started the car. As we drove away diaster struck.
"
Oh no.
" calmly came two not-so-calm words from the other side of the car.
"
What?
"
"
Oh no.
" There were those two words again. Words that, on their own aren't so bad, but combined, are not very good at all.
"
What's wrong?
"
"
Oh no. I think I spilled.
"
Barrelling towards
the parking lot exit, I took a chance and glanced over at Suz, who was holding her skirt in such a way as to catch the river of Teriyaki/Szechwan sauce while her other hand held the plastic bag in such a way that the massive pool of brown sauce did not spill onto the floor mat.
I cranked the wheel
and we pulled into the very last parking space. Suz calmly opened her door and stepped into the rain. There, on the month-old seat of our precious
new Honda
Insight, was a gloppy brown puddle of spicy sauce.
Simultaneous "
shit
"s came out of our mouths. Suz ran all the way back to the restaurant in the rain while I made sure the bag didn't leak. She returned, soaked, with a huge handful of wet-naps which did an amazing job of getting the sauce out of the microfibre.
Inside the bag
the sauce had penetrated the chocolately dessert. Suz decided to toss it all. The noodles. The 6 lbs. of cake. Everything. Garbage. All we had left was our memories...
And
a new rule for the car.