New Frigidaire Gallery Washer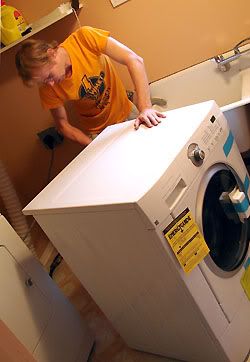 After
our old Maytag
bit the big one
, Suz and I began researching different washing machines from different companies. We took a lot of advice from a lot of people, added it all together, and concluded that a front-load washer was the only way to go. We did not forget our first washer/dryer combo unit - a Frigidaire Gallery series set which gave flawless operation - and weighed that heavily into our decision.
I am partial
to Frigidaire for various reasons, so we decided Frigidaire was the way to go again. As a bonus, they were all on sale at Leon's, so we knocked about $250 off the price of our new Frigidaire Gallery Series Super Capacity washer. And Leon's gave us free delivery to boot.
I knew
that front load washers used up to 60% less water, and far less energy than top-load washers. However, knowing that bit of information still did not prepare me.
Our new Energy-Star washer
uses a mere 215 kwh per year.
Just how low
is 215 kwh per year? By comparison, the power consumption of all 2006 models of washing machines ranged from 113 kwh/year to 680 kwh/year, including top loaders. So 215 kwh/year is pretty awesome, especially considering how much energy our beastly, 25-year-old Maytag was using.
Still wondering
how low 215 kwh per year is? The Energy Guide system estimates this washing machine's yearly operating cost at a mind-blowing $11, based on
eight
(8) loads of laundry per week and 91.0¢ per therm for natural gas. But Suz and I only do 1 load of laundry per week. Hmm. Let's do some math and figure it out.
215/8 = 26.875 kwh.
Our yearly
operating cost drops to 26.9 kwh per year. And since we do most of our laundry in cold water, the natural gas price doesn't really affect us. Well, that $11-per-year operating cost must drop as well. Hmm. More math!
$11/8 = 1.37
So, because
we only do one load of laundry per week, our yearly operating cost drops from $11 to a jaw-dropping $1.37. That's $1.37 for 52 loads of laundry. MORE MATH!
$1.37/52 = 0.026¢
What does
that mean? Each load of laundry we do costs us approximately 2 and a half cents, and that
includes
any hot water we might use. I cannot even fathom how this is possible.
Especially
after seeing how fast the drum spins after the rinse cycle. When we removed our first load, the towels were dry. We don't even need a dryer any more! The only thing we have to worry about is buying the expensive high-efficiency detergent. And Zombies. You always have to worry about Zombies.