Toner Explosions Are Bad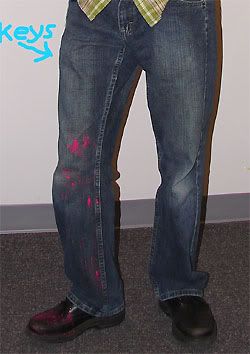 Accidents happen.
That's a pretty lame statement, but it's true. However, accidents aren't the only thing that happen. Pretty much everything happens. In my case, it was an accident that happened to happen.
My accident
involved a big toner cartridge. Not black toner. No. My accident involved coloured toner. And it was the worst colour possible: bright magenta.
The entire right leg
of my pantaloons and my right shoe got poofed with magenta toner. The floor also received much of the toner. The diameter of the magenta toner-stain was 16 inches on the shortest axis and 21 inches across the longest, making for a gosh darn big circle of pink.
I tried
to shake the toner off, but, despite being a powder, it was surprisingly sticky. Not
sticky
sticky, but it just.... well....
stuck
to my pants. The result of my shaking efforts was dismal.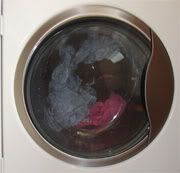 Back at home
, Suz and I decided this would be a very good test for our new front-load
washer
. We had already done one or two loads, but they were mostly towels. Our washer was a jeans virgin; we had not done a load of regular clothes yet.
For the test
outcome, we expected clean jeans. Any hint of pink, and the test would be deemed a failure. A successful result would indicate that our washing machine was doing a nice job.
With the dial
set to Normal we started a load of darks, which included my magenta-stained pants. We used the bonus pack of Tide "he" (
h
igh
e
fficiency) liquid detergent that came with the washer. It was in a little packet. Isn't the word packet so cute? The high efficiency detergent is supposed to be less sudsy and is the recommended detergent for front-load machines. Unfortunately, we already had two big bottles of liquid Sunlight - and we've been using it, even though it's not
he
. It has very low sudsness, so I can't see the harm in using it.
Anyway
, after 13 minutes of reverse-tumbling wash action and 3 rinses, my jeans came out looking spanking fresh, with no sign of the nasty magenta toner. Conclusion: The test was a success. Two thumbs up for Frigidaire front-load washers. Two thumbs down for magenta toner explosions.