The Bleeding Smurf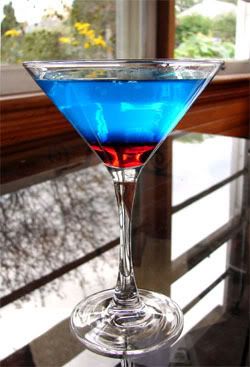 I couldn't
have hoped for a better childhood than growing up in the 1980s. With Hanna-Barbara cartoons and PSAs like "Time for Timer" molding my brain every Saturday morning and every day after school, it's a wonder I have any social skills. The 80s was a happy decade, full of puffy Pac Man stickers, Robotix, and Smurfs. And who doesn't like the Smurfs?
I'm sure
this drink has other names, but "Bleeding Smurf" is probably the most appropriate. The Bleeding Smurf is a super-sweet blue and red Martini served in one of the local bars which our old neighbour used to own. Since she doesn't own the bar any longer, and since she probably didn't invent the drink, I don't feel bad about posting the secret ingredients of this super-awesome beverage.
I have
reverse engineered The Bleeding Smurf for everyone's drinking enjoyment. After experimenting a few times, I believe I've perfected it. In a standard Martini glass pour:
• 1 shot Blue Curacao
• 3/4 shot dry Gin
• 3/4 shot Malibu Coconut Rum
• 5 ounces of fresh-squeezed Smurf blood. (Kidding! Only 3 ounces.)
• Fill the rest of the glass with lemonade.
Finally
, slowly pour some cold Grenadine down the side of the glass until it forms a small pool of red in the bottom. For a tasty alcohol-type flavour, drink the juicy goodness from the glass slowly. For mega-sweetness, stir up the blood and have a sip.
With the pain
in my feet growing more and more unbearable by the day, I sometimes need to find relief in the world of alcohol. I don't want to become an alcoholic, and I don't plan on it, but I sure do enjoy a sweet, sweet drink.
For those
coming to the 'Ween bash this year, The Bleeding Smurf will be the house drink. It's a fine replacement for last year's Zombie and I doubt there will be any disappointed taste buds in the house.