Insight Twins & Nasty Comments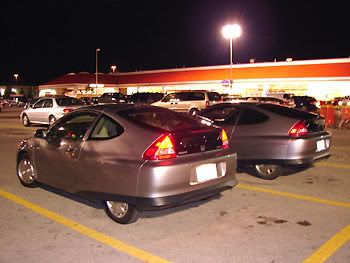 No, you're not
seeing double.
The Insight twins
are back for double-fuel-saving action.
Suz and I
were up at the Home Depot shopping for blinds for our bathroom. The blinds we bought were supposed to be 24 inches, and therefore fit inside our 24" wide window. We had to return them after we discovered they didn't fit. Why? Because they weren't 24" wide. They were 24 and 1/8th inches wide. But that's another story.
When
we emerged from the big orange store I had a mini-freakout. I saw our car, but it was not sitting beside the small, grassy boulevard thingy where I parked it.
"
I didn't park there!
" I said to Suz, pointing at the silver hybrid. "
What the hell is going on? I did
not
park there!
" Thoughts went through my head: did somebody play a prank on us and move our car? No. It's automatic. They would have needed a key. Am I losing my mind? Possibly. Wait. Maybe not.
It was
at that point that I saw our Insight, parked beside the small, grassy boulevard thingy in the adjacent aisle, facing the same direction. Suz laughed. There are less than 400 Insights in Canada, and most Home Depot patrons drive massive trucks capable of carrying all sorts of building materials, making this a bizarre event.
I moved our Insight
next to "VALEN" and took this picture. Suz and I started wondering aloud: Does his wife drive an Insight with the licence plate "TINE"?; Did this Insight driver park where he parked because he saw our car?; Did he think it was cool to see another Insight?; Did he look inside ours?; Or did he just park there and go inside, not even noticing?
Whatever
the answer, we thought it was trés cool. We smiled all the way home, until we discovered the blinds didn't fit.
======================
Last night
I did some thinking after I received some really nasty, ignorant comments on my blog. The comments were related to some very old posts I did about
the Smart Car
, which were based on facts and incorporated my personal opinion.
I started
to ask myself if I should continue blogging if I'm going to receive closed-minded visitors like this leaving their insults on my blog. I don't delete comments because I encourage free and open discussion. But this was not discussion. Some of the attacks were personal, and intended to insult. This is not acceptable.
If people want me
to see their point of view, they should try to convince me of it using logical discussion and proof. It's obvious, by what many of them said, that they did not read my entire post. Instead, they read a few points which angered them, and inspired them to write some thoughtless comments.
Which brings
up another point. Amongst the insults there are actually a few valid points made. It's hard to dig them out, however, because they're buried in opinion stated as fact, rudeness, and stupidity.
As I always say
, Everybody is entitled to their opinion. But some people seem to feel threatened by my writings. Controversy is nice, as it breeds conversation. But I'm forced to impose "Blogger Only" comments as a result of this.
If you're up for it, please read the comments
here
, and leave your thoughts if you like.