Car Show Swag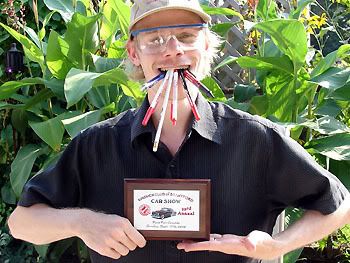 You (
Rainypete
) asked for it, you (Rainypete) got it. Car Show Swag.
The car show
I recently attended with the DeLorean cost $10.00 to enter, which included admittance of both Suz and myself. In exchange for my Sir John A., we were given a goody bag full of goody bag goodness. And like a kid just arrived home from a night of Trick-or-Treating, I dumped the bag all over our table, pouring out the swag in no particular order.
The bag contained
1 wooden 33rd Annual Kinsmen Club of Brantford Car Show plaque that has the capability of being hung in many different places, all of which Suz has said "no" to. Alongside that plaque was a smaller, matching metal "dash plaque" with 3M sticky backing. There was only one place Suz would allow me to stick that plaque, and the sun doesn't..... well, you know.
In the
writing utensil category, the bag contained 5 pens and 1 pencil from various companies like State Farm Insurance, Crime Stoppers and Coldwell Banker Realty. The pencil has already gone missing.
I don't use
Armor All any more, after 197 people told me how it cracks rubber and vinyl instead of protecting. I've never seen it happen, but everybody who doesn't work for Armor All says it has happened to them. Despite that, I was still excited to get 2 sample size, lint-free, not-for-resale Armor All wipes. And if I happen to cut a finger while rubbing those Armor All wipes all over my dash, I could use the package of emergency bandages that came in a nifty plastic container. Oddly, or coincidentally, it reminded me of a little coffin which was approximately the right size for a severed finger.
But with safety
in mind, they also included 1 pair of high impact polycarbonate plastic lenses, which were made in the most safety-conscious of countries, good ol' Taiwan.
And if
that wasn't enough, I also got a sweet dog-safety colouring book, 3 mini-packs of emergency sunscreen which don't expire until August 2008, 3 magnets and 2 business cards from various companies, a Crimestoppers sticky-note pad and a State Farm Insurance keychain.
A big surprise
was the totally dope beige Castrol Racing cap, with velcro adjustability, so it even fits my small head. And finally, an even bigger surprise was the 17, that's right,
seventeen
"Sulley" glow-in-the-dark sticker/tattoo combo packs from Kellogg's. I don't really get the relevance, but oh well.
I think
somebody got tired of filling the goody bags. Too bad it wasn't the Castrol cap guy.