Cupcakes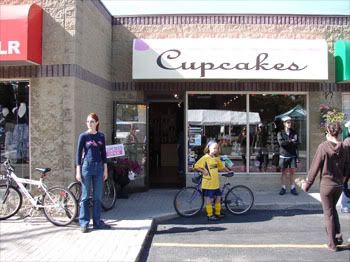 'Cupcakes' is
a little shop that opened last year near our local University and which only sells cupcakes. During a recent
special event
, Suz and I indulged in the sweet, sweet cakes for 20% below their regular selling price.
The woman
who owns it operates it by herself. Despite the lack of employees, Suz and I both pondered how a business such as this could make enough profit to survive. When it first opened, we were convinced it was a front for drugs.
At first
the shop was only open for a few hours 3 or 4 days a week. It seemed to be closed during popular times as every time we tried to buy cupcakes on a Friday, Saturday, or Sunday afternoon, it was locked tight. This further raised our suspicions about it being a drug-house.
Consider this:
The owner must pay rent, electricity, heat, insurance, and natural gas bills. Since it's a food-type business she must also pay for monthly pest control. She has to pay Interac and phone services, not to mention her share of maintenance on the commercial strip she's in.
She must then
purchase ingredients like sugar, flour, butter, eggs and whatever else goes into cupcakes. Finally, she needs those little paper cups the cakes go into. And she needs to make enough money to live off.
I spoke
with a co-worker who owns a large food-type store and, using nice round numbers, we pieced together a rough outline of what the Cupcakes lady
might
, but probably doesn't, pay to operate her business.
• Rent in a popular, trendy area @ $2.00 per sq. ft.: $1,000/mo.
• Electricity: $100/mo.
• Water: $100/mo.
• Heat: Averaging $100/mo.
• Insurance: $250/mo.
• Phone: $100/mo.
• Pest Control: $25/mo.
=
Total hypothetical monthly costs of $1,675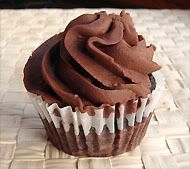 She bakes
only with natural ingredients so as to ensure the tastiest cupcake ever created. At $4.00/lb., butter would be her most expensive ingredient. It would probably take one pound of butter and a dollar's worth of all the other ingredients to make a dozen of her amazing cupcakes. That's $5.00 a dozen.
At $2.50
per cupcake and $13.00 per half dozen, she's actually doing pretty well. If she were to sell only single cupcakes at 25 per day, she would pull in $62.50 per day and $1,875 per month. Minus her ingredients costs of $312, she's making $1,563. That's $112 short of her hypothetic monthly bills.
However
, if she sells 50 cupcakes per day, which is far more likely considering how stupendous they are, she'll make a net profit of $1,451 per month.
So, I guess
it isn't a front after all. That's good because her cupcakes are the absolute slamminest, sugariest cupcakes in the entire land. They'll blast you into hyperville with one lick, and could kill a diabetic with just a sniff of the icing. (Sorry Jason)
In fact
, they are such a compact sugar-delivery system that after eating them for over a year, I have just recently conditioned my body to be able to handle one in a single sitting. Two Martini-thumbs up for her diabolical treats, and two Martini-thumbs up for the fact that 'Cupcakes' is a legitimate business, as proved by my infallible math skills.