Computers Get The Boot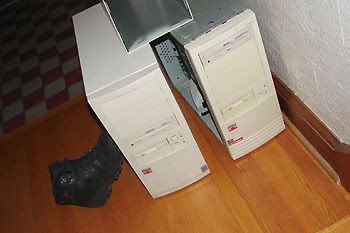 So, I gave
my two old computers the boot. But not just any boot. No, these nearly-obsolete pieces of once fine equipment were not sent to the curb, not picked up by Joey Joe-Joe Jr. Shabadu, and will not find themselves slowly rusting in some municipal dump. Nope, I gave them a very special boot into the world of recycling.
Recycling computers
is awesome. It saves the world from, well, a great big pile of trashed computers. It also creates a large range of jobs which Canada so desperately needs.
Except Alberta.
Rotten, filthy stinking rich Alberta…
*Ahem*
Anyway, it reminds me of something Suz taught me. Now, I'm the kind of guy who can't fall asleep if I so much as accidentally drop some garbage on the ground – and leave it there. But, to help me feel better about it, Suz taught me what her friend taught her. It's a line which holds a lot of meaning if someone challenges your decision to drop trash in a public place. A simple reply is all that's required: "
I'm keepin' jobs in Canada.
"
And it's
totally true. If crusty people didn't litter, then the prisoners who clean it up wouldn't have jobs. And if big tattooed muscley dudes with a penchant for stabbing can't focus on holding down a prison "job", then how can our system rehabilitate their bent minds?
Yep,
garbage is good. If it weren't for garbage, I think the overcrowded prisons would be more… uh… overcrowded.
Nevermind.