New Computer - $0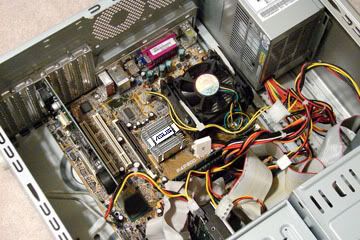 Money comes
and money goes, but in my household, money does go spent upgrading my computer every time something new comes out, which, in the computer world, is about once every 4 days.
Nope,
I get my computers from the garbage. But I don't have to go dumpster-diving to find them. I simply sit and wait - and they
come to me.
My good
friend BPZ has come through once again and supplied me with a whopping 2.4 Ghz Pentium 4 which used to be his company computer. When they upgraded his home computer, the old one, which is outdated by their standards, was slated for
recycling
. Instead, it will replace my P3 450. As BPZ points out, my old computer is the 'point four' of the new one.
This one
came loaded with circuit boards, wires, boxes that hummed and tilt steering. It even had a big fan that spun around, dizzying the eyes and mind. The circuit boards were covered in little nubbies and bits of shiny stuff.
Very cool.It also
came with a CD burner, which I've never had before. I don't know how they fit matches in there, and I don't know why anyone would want to melt a CD, but considering people use them as coasters, I guess someone had to invent more fun things to do with them.
I do enjoy
my new computer very much. If it weren't for the tempting, candy-like ASUS finger-grater located directly in the middle, I would've considered the computer less of a torture device and more of a toy.