So Fragile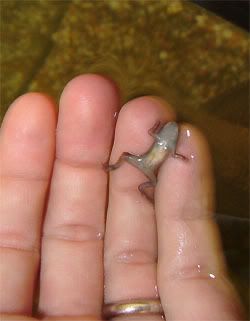 My 50 gallon
aquarium is home, primarily, to
Sir Glubsalot
, my Sailfin Gibbiceps pleco from South America. He is one-and-a-half feet long (a bit longer than a keyboard) and 5 inches wide. 2007 marks his 13th birthday. I doubt I will have a party for him, although, I might pour some Jack Daniels into the tank for him.
But I also have
some smaller fishies which I take care of as well. I think a lot of people take fish-owning too lightly. If a $3.00 fish dies, the consensus is usually "
who cares? He was only $3.00.
" He then rides the porcelain bus down into the city's bowels as a final farewell.
I feel
differently. Just like any pet, I am responsible for their lives. I am responsible for the environment they live in, and if they suffer, it's entirely my fault.
When we
returned from our trip, I decided to relive my childhood by purchasing a pair of dwarf underwater frogs to enhance the lives of the small amount of fish I have. I didn't realize this was an instant death sentence.
My filter
is an Aquaclear 200. Although it's a reasonably powerful filter, I have, on a regular basis, watched it struggle to pull even the smallest shit particles in. Any living creature with fins or webbed feet could escape its pull.
Sadly
, Frog #2 wasn't so lucky. It's not that he couldn't resist the pull of the filter, but rather, an unfortunate case of bad luck.
One day
, after work, I discovered his lifeless body wedged into the filter tube, head first. My conclusion? He either had a catastrophic webbed-foot malfunction, or, swimming up to the surface for air, he must have slipped into the suction of the filter and swam straight up into it.
Hopefully
, he died instantly, and didn't suffer. Suffering sucks.