We Wii At Work
Spreading their
addictive interactive joy, Nintendo loaned our workplace a Wii system for a week so that we could review it and become so dependent that we'd each have to buy one.
The Wii
is Nintendo's fifth home entertainment system in North America, not including their silly red 3-D 32-bit virtual reality-type system that only sold fourteen copies, all of which have become "collector items"
on eBay.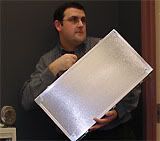 Nintendo
sent along their sleek Wii in an even sleeker carrying case fit for a secret agent. Yes, we finally know what was in the case in
Ronin.
The silver case was loaded with controllers, wires and games like Excite Truck (remember Excite Bike?!?), Zelda, and Warioware which contains 200 micro games. To see the opened case full of goodies,
click here.
Strung-out
co-workers battled each other in Boxing, attempted to out-bowl each other, and faced off in tennis matches. One overzealous co-worker began wailing on his boxing opponent for real, and Jodster and I had to step in to break it up. A collection has been set up to bail our co-worker out of jail.
And this is
a good time to remind everyone that one should only use Wii controllers with the Wii system. When playing Baseball, don't use a real baseball bat. It's not compatible with the system, and could seriously injure someone, or break mom's favourite ceiling fan.
Also
, when playing
Friday The Thirteenth
, don't use a real meat-cleaver. That's just an accident waiting to happen.
Bob The Builder
fans shouldn't use a real hammer, either.
Remember
to be Wii-sponsible. Only you can prevent Wii deaths.