Huge Russian Aircraft
On Christmas day
I did something different. I love driving around on December 25th. Everything is so calm and quiet. It's exciting to think, "
I'm the only person out here.
"
So,
what did I do? I picked up my dad and we drove out to the local airport, where I used to work. Everything was eerily silent, save for two strange men who, with a Ford Lightning pickup, were illegally dumping a load of garbage into one of the airport's giant trash bins.
I didn't care.
I was just glad they weren't dumping their stuff on conservation land. I climbed up on that same giant garbage dumpster to get a better look at the beheomoth that was the reason for our visit.
There
, sitting on the runway, was a monster larger than a C-5 Galaxy. At one time, not very long ago, it was the largest plane in the world. It's the Antonov 124, and it has been coming to our local airport once a week for over 10 years.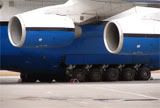 This Russian
cargo plane is incredible to say the least. Inside, it lifts its elephantite cargo with
overhead cranes
, and has a maximum take-off weight of nearly one million pounds. The known cargo carried by the Antonov is equally impressive. In the past 5 years, it has transported a 109-ton locomotive, a whale, other aircraft, and at our little airport it was loaded with 14 fully modified Ambulances destined for Saudi Arabia.
Propelled by
four massive Lotarev D-18 turbofans, it's maximum speed is just over 500 mph. Think about that for a second. It can carry the largest mammal on earth at twice the speed of a lightweight, whale-less* F-1 car.
Try hitching
a trailer of wet sod to your Lamborghini Gallardo and seeing how fast you can go. I bet it's not very fast. Also, Lamborghini doesn't recommend attaching a trailer hitch to their exquisite, high-performance products.
As huge
as the 124 is, there is a plane even larger, also built by those persistent (obsessed) Russian engineers. It's the Antonov 225, originally designed to carry the Russian space shuttle. Whoa.
*
provided Rosie O'Donnel isn't driving