Drink and Drive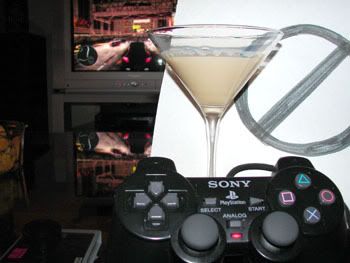 The Christmas season
is a time for partaking in a little partying, and along with festive celebrations comes Rum-infused egg nog and other alcoholic beverages. Drunken stupors will be rather commonplace, so it's time to remind people of a very important message: Don't Drink and Drive.
Or
, in the case of my house: Drink and Drive.
I encourage
drinking and driving. But before you start jumping to conclusions and yelling at me for being irresponsible, check out the photo again. In my opinon, the drinking and driving test I've developed is very responsible.
Party-goers
must engage in PS2-style racing before they're allowed to hit the road. If they're able to succesfully navigate speedily through city streets they've never seen before, and come in first - without smashing into buildings - they're probably not too wasted.
But the
sneaky little catch is that they become so enthralled by the games, and by the competition sitting beside them on the couch, that they'll want to stay longer and play more. This gives them even more time to sober up.
My first test
, at the Halloween
party
, was so successful in fact, that Mr. Industry, after an hour and a half of racing, actually became too tired to drive in real life. He slept over. How's that for preventing drinking and driving?
And so
his bro and myself engaged in some drinking and driving on the weekend. We sipped Martinis, raced pink RX-7s and giggled like schoolgirls when we thought of the irony of Drinking and "Driving".
I am
often reminded of the true words of one of my best friends at a party a few years ago. "
You're drunk
!" declared some people. "
I am not
!" came the slurred reply. "
Gimme your keys and I'll prove it.
"