Nutrament®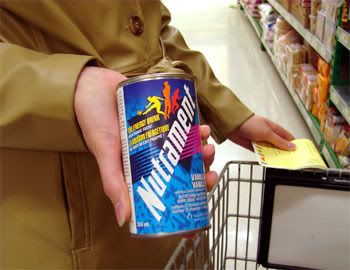 Today my boss
is taking me, along with the rest of my co-workers, out for a Christmas lunch. It's something we haven't done around here in many years so I'm looking forward to it.
Thinking
about this upcoming lunch, I suddenly remembered a picture I took inside a grocery store a few weeks ago of something interesting. A can of "Nutrament".
There's a reason
I think this product is so funny. Because it uses a made-up word, one that I thought I invented years ago to try and fool people. Fool them how? Well, to trick them into thinking what I was eating was nutritious.
I revived
the word one Easter while eating some Cadbury's Creme Eggs. Suz was getting upset at me because I was working on my fifteenth egg in as many minutes - for breakfast.
"
Of course I'm eating eggs for breakfast,
" I told her. "
They're delicious AND nutritious.
" She only agreed with the first half of that statement. So, using the ol' Homer-type "deer/beer" answer I told her it was full of nutraments, you know, instead of nutrients.
Suz: "
Did you just say 'nutraments'
?"
Me: "
Bub!
"
Laughter ensued
and I've since progressed the usage of the word to cover many other non-nutritious things.
The well-designed can claims
that Nutrament is a nutritionally complete beverage containing carbohydrate, high quality protein (as opposed to that low-quality squirrel-meat stuff), vitamins and minerals. They also claim that Nutrament can be consumed at any time, and that it is refreshing. Neat.
However
, I don't think many people agree with that, considering I had to wipe a half inch of dust off the can before I could photograph it.
I just
couldn't resist a photo-op, when I saw this can of Vanilla 'Nutrament'. I figured these guys had done the same thing as me, with their lame attempt at fooling people into thinking their drink was nutritious. The elderly, with raging glaucoma, just might fall for it.