A Disney Christmas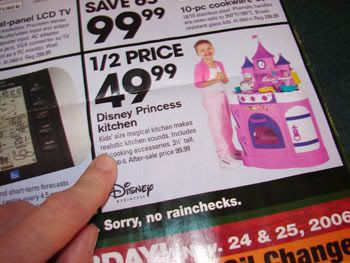 Christmas is
getting closer and the 47 lb. flyers are landing on people's doorsteps across the land. People may not have time to flip through 599 pages of awesome prices, but doggone it, they're making the time.
Why?
The sales are on, enticing people to part with their green, or in Canada, their bright rainbowy money, which may or may not be confused with Monopoly money. Parents are hoping to create cherished memories with their little ones, perhaps even celebrating their very first Christmas with little Clint.
Suz and I
were flipping through the flyers the other day, looking for deals, and ideas, and stuff to make fun of. We always look through the local flyers. It's fun. And sometimes we find sweet bargains or Canadian Tire 10%-off coupons, which we used
Tuesday
night.
Anyhoo
, Suz hit the jackpot when she found this "Disney Princess Kitchen" for half price.
The pink
plastic Disney Princess Kitchen is a steal at $49, but raises some questions about what we teach our children. Forget for a moment that the image of a little girl sends a message that women should be in the kitchen, cooking. Forget that it brainwashes little girls to think they ought to start at the tender age of four and a half.
The worst part
is that this particular kitchen, as opposed to a Fisher Price kitchen, sends an extremely socially-incorrect message. Princesses do not cook for themselves. They have servants. Shame on you Disney, for not calling it the Disney Servant's Kitchen for Snotty Little Snots, in Pretty-Princess-Castle Shape.