Not Your Everyday Taurus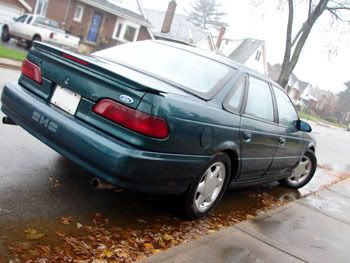 The Ford Taurus
has long been taunted. After all, it's a reasonably boring family sedan. But there's an impressive version that's more Yamaha than Ford, and deserves kudos instead of insults. The SHO.
For anyone
who doesn't know, SHO in an acronym for Super High Output. The V6 engine was developed by Yamaha. Back in the early 1990s, 220 horsepower and 200 ft.-lbs. of torque was pretty awesome for anything but a sports car. What's even more impressive is that the car, looking a little different, debuted in 1989.
This SHO
is my dad's. But he bought a new car about 2 years ago, and the Taurus, with 325,600 kms, was restricted to pick-up truck duties such as hauling lumber and ladders and whatnot.
325,000 kms
is impressive enough. But what's more, is this SHO still has its original timing belt, which was supposed to be changed every 60,000 kms.
Even
with a new car, my dad loved his luxurious SHO so much that he decided to keep it as a winter beater. The problem was, he didn't use it. With pressure from my mom, he put it up for sale. But there was a problem with that too. The only people interested in it didn't know what it was and were utterly confused when they came to look at it.
Ultimately
, my dad decided to let me borrow the car as he'd rather see it put to use than keep trying to sell it. With my foot problem, it's getting nearly impossible to push in my clutch, so the Taurus (an automatic) will really help me get through the winter.
Who
would've thought, back in '89 when the Taurus SHO debuted, that it - with its sweet JBL sound system, wicked factory sub-woofer and eighteen-billion way power leather seats - would someday serve as a winter beater?