We Bought Too Much Candy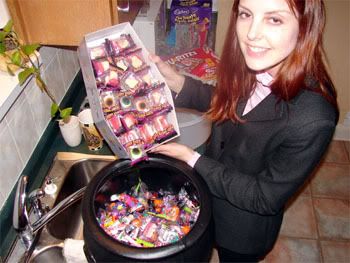 Trick-or-Treaters
who were lucky enough to stray off course and wander down our quiet street were in for a nice surprise last night. Upon ringing our bell they were greeted with massive fist-fuls of glorious candy of all sorts.
Suz and I
couldn't find our treat bags this year, and started wondering how to hand out the candy. We decided that we'd dump all of the Nestle chocolate bars, Cadbury chocolate bars, Gummy Body Parts, Rockets, Candy Necklaces, Candy Coins, Pumpkin Faces bubble gum, Chiclets, Terror Eyes gumballs and Boneheads candy skulls into our plastic witch's cauldron.
Curious
, I waddled upstairs with my arms wrapped around the behemoth. I placed it on the white Ikea bathroom scale. I watched it teeter between 12 and 13 lbs.
>Last year
we had around 45 kids come to our door. We were hoping for more this year, especially after we saw how much candy we really had. If we got 45 kids again, and we had 12 lbs. of candy, that would've translated to over a quarter pound of candy for every little goblin.
A quarter pound?
That's a hell of a lot of candy from one house. Wait. That's a hell of a lot of candy, plain and simple. It's like a Wendy's 1/4 Pounder burger.
Before
cooking it.
More
than twice I dumped handfuls of candy into little canvas bags, instantly doubling their weight.
By the end
of Halloween night we only had 35-ish kids come to our door. And most of them were four years old or thereabouts. I don't know what a four-year-old Unicorn is going to do with sixteen pounds of candy, but that's the kind of haul I dreamed about when I was tiny little.
As for
the older kids, it was great to hear them "Whoa" each time I reached into the bottomless candy cauldron. But there are some people who don't appreciate our misjudging of candy purchasing. Dentists have been sending me hate mail for 12 hours now.