Autumn Is Better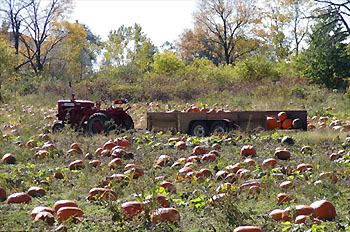 I think
we're lucky to live in Canada. In Canada we have four seasons. When everyone has had enough of snowboarding and depressing skies, there's spring to look forward to.
But when
muddy, soggy ground and jacket-weather starts getting on our nerves, we've got the sizzling summer sun to look forward to. And just when we start to get bored of the never-changing green summer landscape, autum arrives in full colour, and Dolby Surround where available.
Think it
would be nicer to live near the equator? Compared to some tropical island, we are very lucky to live in four-seasons-Canada. Sure they've got sandy beaches and lover-ly palm trees on those gorgeous islands. Sure they've got hot heat and cool breezes and fancy drinks. Yes, summer's nice, but once it's over I don't think they're looking forward to monsoon season.
Four seasons
are definitely nice. And Autumn is my favourite of all of them. Partially because the trees slap your eyeballs with colour, partially because of Hallowe'en, and partially because autumn is the opposite of prison.
In prison
everything is colourless, even in the fall. In prison you must endure the smell of B.O. and piss instead of the crisp country air. In prison you can pick a fight, but you can't pick fresh apples. In prison you can carve up Jimmy Cardoni, but you can't carve a pumpkin.
Or maybe
you can. Jail has changed a lot since I saw it portrayed incorrectly in movies. However, I still like autumn better.