Bag Juice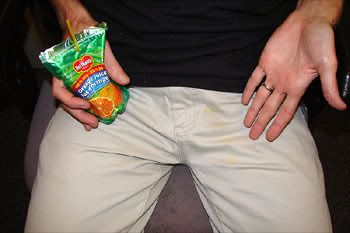 I had an accident
at work yesterday. Not the kind of accident that leaves you fingerless, but the kind that leaves you humiliated. This accident was four days in the making.
It all started
on the weekend, when our favourite grocery store didn't have any juice boxes in stock. Orange juice? Sold out. Apple juice? Gone. Five Alive? Yeah, right. All forms of juice box drinks were completely sold out.
So we
bought bags. Yep, stupid Del Monte juice bags. I hate them.
At lunch
I tried to push my straw into the bag of juice. It was nearly impossible in comparison with Tetra paks. With Tetra paks (the grown-up term for juice boxes), you simply use your murderous Freddy Krueger instincts to stab the hole at the top of the box. Your reward is delicious juice.
Bags
are different. Even the straws are different. They're thin and weak and bend easily. I hate them.
After struggling
for a ridiculous amount of time with the sack of juice and anorexically fragile straw made from inferior plastic, Suz suggested I squeeze the bag a little bit, then pop the straw in. I thought this was a brilliant idea. Except I squeezed a little too hard. The straw went in with no problem, straight down into the juice.
The juice
, aided by my squeezing of the bag, shot straight up through the straw like a fountain. It squirted all over my shirt and my pants for like, 10 minutes. And, with my awesome luck, it landed in a most appropriate spot for jokes.
It was
surprisingly easy to convince
One Useless Man
, Jodster, to snap a photo of my groinal region for my blog. He's just that good of a friend. At least, I hope that's the reason.
Anyway
, I can't wait to go grocery shopping again. I want my juice boxes.