8 Legs of Doom
Hallowe'en
is drawing near and it seems like a good opportunity to talk about spiders. I hate when people kill spiders. I hate when people kill anything. But especially creatures that don't have any idea they're about to be squashed. And even more especially when the creature is trying to run for its life.
I'd much rather
have spiders in the house than all the things they're eating. But I still understand people's fear of spiders. I understand because I also get a little freaked when I pick one up, it escapes my clutches, runs up my wrist and makes a break for my sleeve. I understand the fear, because when I think the spider is too big, I'll capture the spider in an old juice jug instead, then dump ol' spidey in the garden.
Working
in the garden this weekend, preparing the plants for the cold, I discovered this giant garden spider. It has been a long time since I had the courage to pick one up. About 22 years or so.
I watched
the garden spider scrambling on the smooth iris leaves and decided she couldn't hurt me. I tried to grab her big ass, but I didn't know how much pressure I could use. I tried a few times to pick her up, but she was eight legs deep in her mighty web. I decided to leave her alone and instead just take a few pictures.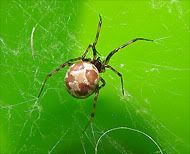 I harbour
a hope that somewhere in my garden this other spectacular spider lives. I grabbed her from somewhere in my house and tossed her outside to save her from a gruesome Nike death. Suz is absolutely terrified of spiders and if it weren't for me, there'd be a lot of spider guts to clean off our walls.
I'm glad
this spider is no longer living inside our house, as it is a very deadly, tropical, Brown Widow spider. Yes, the
Brown Widow
, cousin of the Black Widow. I've learned from a
University of Florida website
, and confirmed by
Wikipedida
, that the venom of the Brown Widow is twice as potent as the Black Widow spider. However, the good news is that the chances of being bitten are very slim since she doesn't defend her web as vigorously as the Black Widow. Still, if bitten by the Brown Widow, there is a chance of death although I suspect that's only with the very young, or the elderly.
But as scary
as this sounds, I am really excited to say I've had one of the deadliest spiders in all the land living in my house. Had I known the 411 (do people still use this cool daddy-o term?) on this arachnid before I scooped her up, I would have been much more careful.
Still
, it's October! It's Halloween time! And what would Halloween be without spiders? I'll tell you what it would be. Lame.