Halloween Candy Oscars 2006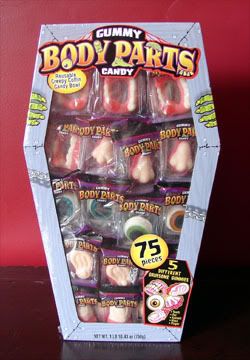 It's that time
of year again. Time for the almost-prestigious Halloween Candy Oscars. So roll out the bloody red carpet and put on your best fangs, because yes, there is a trick to chowing down on the best "Halloween" treats: they must be Halloween-themed.
This year
there are all new nominees. Not because last year's candy blows cauldrons, but because last year's candy is, sadly, no longer available (in my area at least).
Suz and I
spent a lot of time shopping for Halloween candy this year. And when I say Halloween candy, I mean creepy-themed candy forged in the dungeons of candy factories which otherwise produce standard sugar treats the rest of the year.
This year
I became a little depressed as yet another amazing Halloween candy disappeared from our shelves, perhaps forever.
Last year's winner
, Concord Confections' Halloween gumballs, could not be found anywhere. Only the ghosts of gumballs past exist now. They join Charm's Dead Heads, 2004's official winner, in the candy cemetery.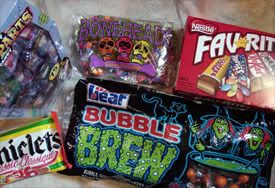 But hope is not lost. There are still a few good Halloween-themed treats out there, and these are some of the best. Nominees include Oak Leaf's
Bubble Brew,
a bubble gum mixture containing orange and black "Pumpkin Faces" gumballs, Frankford Candy & Chocolate Company's
Gummy Body Parts
, and Oak Leaf's Skull-shaped
Boneheads
.
I'm very confused
by the delicious
Boneheads
candy. Up until 2005, these awesome crunchy candies could only be found in the U.S., despite the fact they're manufactured in Toronto, by a Canadian company. I first found them in Canada in November 2005, in a local Wal-mart and I was very happy to see them again this year.
Oak Leaf's
Pumpkin Faces
gum is a nice addition to the Halloween candy world, but doesn't hold a candle to last year's winner. That's why I award 2006's Halloween Candy Oscar to
Frankford's
Gummy Body Parts
. Not only are these gruesome eyeballs, bloody fingers, monster fangs, eerie ears and creepy noses perfect for Halloween, but the packaging is a huge
"Creepy Coffin"
which can, get this, be reused as a candy bowl!
I was unable
to invite back any of last year's nominees, but I am happy to say there is still true Halloween candy creeping around out there, as proven by these great companies.