Peter Welch in Vermont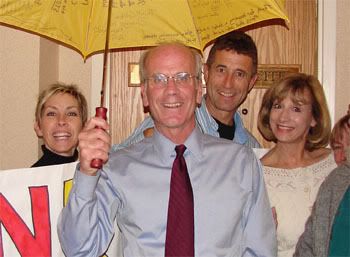 Suz's business trip
to Burlington Vermont, which I tagged along on, turned out to be an extraordinary event.
This is
Senator Peter Welch. I met him Tuesday night during an important and significant election, where
Nancy Pelosi
became the first female Speaker of the House in the history of the United States.
The group
that Suz was with, for business purposes, booked the Presidential suite at the hotel. After dinner Tuesday night we met with the rest of her group in the suite for a night of fun. We didn't know just how fun it would be until we discovered that Peter Welch had booked the room directly across the hall from us.
Our hotel
was besieged with news stations like NBC, and hundreds of people involved in the political scene. I don't know what any of these people are called, as I don't really know much about politics. Regardless, Suz and I got caught up in the excitement Tuesday night.
Crowds
of volunteers dressed in suits and other formal-type clothing congested the halls of the hotel while news crews squeezed in and out of the different rooms. Suz and I, giddy at the sight of all the action, stood in the background while Mr. Welch's sister was interviewed.
Soon we were invited
into their suite, even though we couldn't possibly squeeze into the crowded room where the very pleasant Mr. Welch was giving interviews. I quickly switched my camera from video to still-photo mode when I was given the thumbs up to take pictures.
Mr. Welch
, victorious in his run for congress, asked me to get a picture of him posing with his umbrella gift. People I mostly didn't know gathered behind him with a massive 'Thank You' banner. The entire time I found myself impressed with how nice Senator Welch was.
As the votes
in the eastern states finished coming in, everyone filtered downstairs where the news crews were gathered. I realized this was a unique opportunity, and I snuck back into their suite to see what wild and crazy politicians and their posse get up to on election night.
Stay tuned
to see what I found.