Cocoa Krispies: Krazy Delicious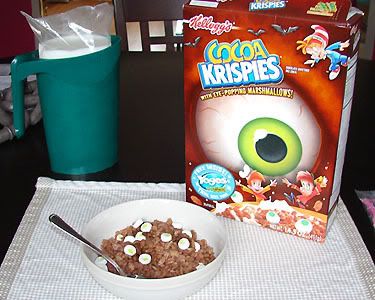 Travelling home
from a vacation is usually a sad thing. But for me, it's nearly as exciting as the whole trip itself. That is the time when we stop off at grocery stores and mammoth Target stores looking for deals.
On our drive
home from Vermont, travelling along small 2-lane highways twisting through tiny, desolate towns, Suz and I came across an Oasis. Amongst the plethora of abandoned businesses and decrepit, collapsing houses, a brand new plaza containing a brand new Price Chopper suddenly appeared before my brand new eyes.
It was
a spontaneous decision I made - to slam on the brakes, then coast silently into the well-paved parking lot. I parked in a far corner, and Suz and I ran through the rain, into the Price Chopper.
Inside
we found some delicious things to eat, including a seasonal cereal: Cocoa Krispies, with Eye-Popping Marshmallows. At the cash, I was quite confused when I only had to pay $1.50 for the Halloween breakfast. I thought there was a mistake. Cashier #035 could see it in my face. "
We're clearing those out.
" he said.
Once home
, I could not wait to dig in. Inside my mouth, the amazing Cocoa Krispies didn't stand a chance. Move over
BooBerry
. Sayonara Frankenberry. You too,
Boookenberry.
I have discovered my new favourite Halloween-themed cereal, and it comes in a poop-brown box avec giant monster-eye.
Cocoa Krispies
danced on my tastebuds. I was dazzled by their deliciousness. On one hand, I didn't want to swallow them, but on the other, I didn't want them to turn to a disgusting mush in my mouth. When I was finished, I immediately poured another bowl, and fought my urges to pour a third.
The
"Eye-Popping" marshmallows were strong. They were crunchy and firm, the way cereal 'mallows should be. Only the final few, sitting in the milk for a while, began to show signs of sog. They were perfect.
In fact
, the entire cereal is perfect. Kellogg's is a good company, as is any company willing to make a limited-edition food product for the Halloween season. But really, for a buck fifty, it could've tasted like crap and I still would've been happy. Because the box is pretty snappy.