Mother Nature Is Cruel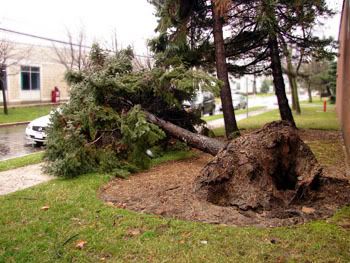 Mother nature
, finally fed up with her own generosity, said "enough" on Friday. Over the course of two days, Mother nature took her ball, in the form of bizarrely warm weather, and said "I'm going home." What we were left with was a tremendous wind storm that did some severe damage all over the city.
Outside my workplace
, a massive pine was
uprooted
by the cold wind. It would have been very interesting, yet sad at the same time, to watch this tall conifer blow over and
land on
my co-worker's car.
It would
have been even more interesting to hear her insurance company's reaction - since this wasn't even her car. It was a rental she was given after she was rear-ended by a transport truck two weeks ago.
Within an hour
of this incident, through pouring rain, the incredible wood-grinding abilities of industrial woodchippers arrived to eliminate the downed giant. Remember the woodchipper scene in Fargo? Similar. But with less blood.
On the other
side of the city, floods destroyed homes and cars and endangered people's lives. Power lines were knocked down leaving homeowners, restaurants and schools unable to watch 90210 reruns.
Back at home
, massive 100+ foot trees lining my street survived much better than expected. Only a few dead branches broke off and crashed to the ground. Most were less than 10 feet long, and only one was longer than 25 feet.
With all
the disasters occuring across the city in various forms, we definitely got off lucky.