Venezuela Is Neat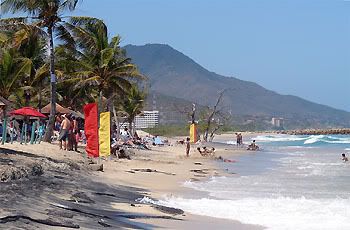 Eight lazy days
later, Suz and I returned from the Bolivarian Republic of Venezuela. We stayed at the LagunaMar Resort on Margarita Island, which is almost like a desert island.
The plane trip
to Venezuela was 4 hours and 47 minutes, aboard a supercool Airbus A310. When we landed, the temperature was 31C. We then travelled 45 minutes by bus to our resort.
Employees
of the resort worked daily, doing their best to keep the grass and the palms nice and green, as green is the preferable colour of tropical lushness. The resort was surrounded by scrub, cacti and mountains, which seemed to have plenty of plants growing on them.
There were
6 pools scattered across the land including a wave pool and a kids' pool with very large waterslides which taunted me with their curves and trickling water. Children laughed with glee upon splashdown, while I hid my resentment deep inside.
Instead
, we spent our days laying on the amazing beach and watching the four-foot waves roll in. On the more windy days we lounged by the main pool, which had a swim-up bar and a waterfall. The bar was frequented by us, frequently.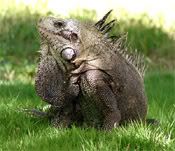 Occasionally
a big iguana would wander up to our poolside lounge chairs, triggering camera-hysteria. He would beg for food while keeping his distance. (Thank goodness for a 12x zoom lens!) When I got too close to ol' Jub-jub, he would spit at me, and thrust his head into the air indicating I had either overstepped my boundary, or had bad breath.
The resort
was large enough to require shuttles that would take us from our building to the restaurants, pools, watersports lagoon and beach. There were no emission controls on the shuttles, and my life has been shortened dramatically, but I still enjoyed their services.
The food
at LagunaMar was typical. Some was very good, while some was very spit-outable. I enjoyed pollo on a daily basis, and nearly convinced Suz that it was "kitten" and not chicken. There were only two à la carte restaurants, one Mexican and one Italian, and both were excellent.
The five
and a half hour plane trip home was uneventful, except for the two movies we watched: The Guardian, and Man Of The Year, some of which was filmed a couple of minutes from my house. It was during the filming of this movie that my old pal Kev had a
conversation
with Robin Williams.
When we
got home the temperature was negative 10C, a difference of about forty degrees.
Here I am, giving my approval to a local Venzuelan.
Here is a nice shot of pelicans and far-off islands.
Labels: Iguana, Margarita Island, Venezuela