All Growed Up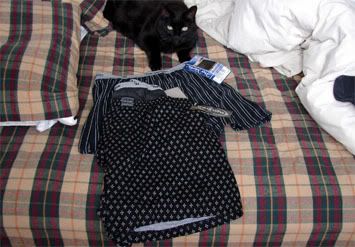 When I was 16
, all my friends were getting their driver's licences while I was content, nay - extremely happy - to ride my bike everywhere. When I finally turned 18, and acquired a job at our
local airport
, my parents forced me to get my licence.
Life changed.
When I graduated
college with a diploma, ecstatic co-graduates, teachers and friends forced me to celebrate with them.
Life changed.
And when
I got married a few years ago, common sense and marriage tradition forced me to go on a honeymoon to exotic, tropical Pennsylvania's Pocono Mountains.
Life changed.
But it wasn't
until last week that I, barely into my third decade of existence, became a grown-up. Yep. I bought my own underwear for the first time in my life.
And what
a sweet deal Sears had! Boxers were all on sale for 30 and 40% off. So I took the opportunity to update my holey, faded and unstitched shredded rags that cover me tender bits.
And with that
, I have severed my last needy tie to my mommy. Yep, I'm all growed up.