Twenty Years of Technology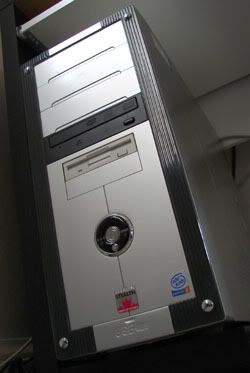 In 1987
my parents bought a home computer for my sister and me. It was an IBM clone 286 with a quarter meg of RAM and came with a mouse, which was unheard of at the time.
My friends
were amazed by the VGA colour monitor, but very disappointed that we couldn't swap files because of the weird new 3" disk drive. Years later even our high school computers still used 5-1/4 disks, so I could never bring anything home to work on. Nothing could be saved to our hard drive without deleting one of the two programs it came with and the modem was literally useless because there was no one else we could connect to. In fact, my mom was the only person who even knew what a modem was.
It's like
I have lived the past 20 years in a cocoon. And I finally broke out of the crusty brown thing this weekend when I bought my first DVD-burner, a
Pioneer model
. It was on sale at a place called Summit Direct for $39. I thought it was a good deal, although, admittedly, I have no idea.
It's a 40x8x12 if I remember correctly. Again, I have no idea if this is good, but for $39, I didn't think I could go wrong.
I also
picked up some Kodak 8x re-writeable DVD -Rs. Each DVD holds 4.7 gigs of info, which is 50% larger than the hard drive from my old Pentium 2. The 50-pack cost $16. For $16 I could have bought eight mini cartons of
Ben & Jerry's
ice cream, or 6-1/2 cupcakes from
Cupcakes
, or 3 minutes of time
here.
After installing
the burner and the Nero 7 software, I burned my first DVD on the weekend. It felt like 2001. Man, I've a lot of catching up to do.
Labels: computer, DVD burner, Pioneer