How To Get 70 MPG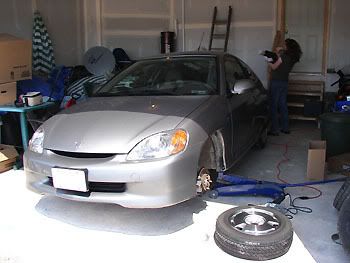 With an
unseasonable blast of warmth, it was the ideal weekend to take the snow tires off the Insight. I washed the car first, so that the slippery aerodynamical cleanliness combined with the super low-rolling resistance tires would get me super-mega awesome mileage.
I drove
up to BPZ's new house achieving a decent 4.5L/100 km. I crossed the 4-inch wide river of muddy doom created by his car-washing neighbour, and nestled the little hybrid into the furniture-filled garage.
In a few
minutes I had the two front tires off, and we all stood around giggling and pointing at the
tiny brakes.
Yes, size does matter.
After we
had our fun, I loaded the two snow tires into the back, causing drive-home suckage. Having six wheels, mileage wasn't as good as it could be. Granted, the four wheels actually bolted on the car served me well, rolling appropriately down the highway and all. But the two in the back were useless. Dead weight, essentially.
When I arrived
home, the Fuel Consumption Display read 4.0L/100 km (or 70.6 mpg), even after dodging through narrow neighbourhood streets to locate
the fire.
It wasn't the best, but it'll do pig, it'll do.
Labels: Insight, mpg, snow tires