Dinner & Stupidity
"
We have cell phones.
" I said, greeting the girl behind the counter. The naïve and confused Pizza Pizza employee asked, "
for… me?
" in such a naïve and confused way that I almost laughed.
"
No.
" I pointed to the sign on the counter, "
for the cell phone recycling program you have. You know, cell phones in exchange for pizza?
"
She looked
even more confused. Was I playing on her gullibility? Perhaps she was shocked that a random customer knew more about their promotions than she did. She leaned back and moved her eyeballs over to the slick sign I was talking about. She didn't know what to say, and ran off to get her manager. I noticed that she ran like a girl.
When the
manager came around the corner he held his hand out and smiled. We handed him our cell phones and charger, and he explained to the girl that we each got a free slice of pizza.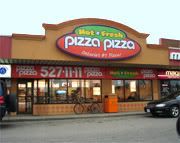 I felt great.
Not only were we helping the environment by driving our Insight to the restauraunt but we were also recycling our old NiMh batteries and cell phones. On top of that, Pizza Pizza makes a donation to some environmental thingy. Who wouldn't feel good about free pizza & less junk in their kitchen drawers?
We sat
in the restaurant, eating our free pizza and smiling. When we finished, we stood up with our cardboard pizza trays and looked for the recycling. We looked and looked, but found nothing.
No recycling
for paper, no recycling for cardboard, no recycling for bottles, no recycling for cans. Nothing.
How hard
can it possibly be to recycle cardboard at a business that has cardboard as its primary garbage type? It blew our minds that Pizza Pizza can recycle cell phones, but not paper products. How backwards is that? So we folded our cardboard trays, took them home and placed them into our own BLUE BIN, which every household in our city has.
Labels: cell phone, pizza, recycling