So Much For Earth Day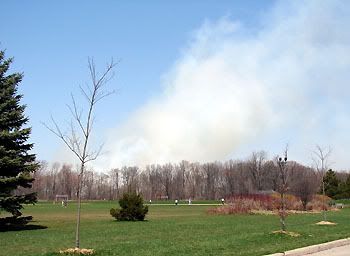 I'm not
some hippie environmentalist, but I make an effort. If a program exists, I use it. If a product exists,
I buy it.
Energy efficient products are win-win products. They help save our environment, and save me money.
If you ask me
, every day should be Earth Day. After all, we live on the earth every day of our lives, save for a few brave astronauts, and a couple of monkeys that were hurled into space.
Earth Day
is supposed to be about celebrating our planet, and cleaning it up. But instead of tiny oaklings covering the land, I noticed an enormous plume of smoke covering the horizon as I drove home.
"
There's a fire at the old Depends Undergarment factory!
" I thought, as the grey smoke drifted sideways through the sky. If it's even possible, I carefully scrambled for my camera as I drove along the highway. Trees interrupted nearly every shot I took, but I was able to capture one
half-decent view
of the smoke.
I manoeuvered
my little Insight as close as I could, and discovered a problem that maybe wasn't worse than a chemical-diarrhea fire, but possibly sadder.
It was
the conservation area right by my house that was on fire. And surprisingly, there was no mention of it in today's newspaper.
Labels: conservation, earth day, fire