The Loneliest Number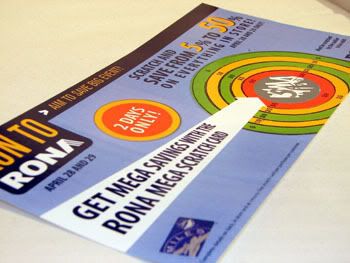 I found
this scratch 'n win card in our recycling bin when I got home after a healthy 14.5 hour shift. I couldn't resist scratching the stupid, shiney silver dot, even though I already knew I'd won the booby prize.
Why is it
that when you scratch a promotional card for any fitness gym, you always win their 'rare' grand prize of 6 months for free, or no membership fees?
Nobody
wants these prizes. Why? Because nobody really joins gyms. And those exceptional few who actually do go to gyms, well, they're already happy, sweaty members of their gyms and won't need the silly free membership.
Promotional scratchies
for other companies always leave you with a bad taste in your mouth. Of course, scratching the dot with your teeth is not the best idea.
But even when
you reveal your prize with a coin, your keys, a butter knife, or a really sharp banana, you end up with the lowest prize available – a stinking 5% off your purchase. That's like 15 cents off your 4-pack of light bulbs which will probably be banned soon because CFL's are the future. And everybody likes the future. It's full of possibilities.
But
what's
not
possible is winning the grand prize. Because, according to the statistics on the back of Rona's scratch 'n win card, there is only one card which holds the grand prize of a whopping 50% off your purchase.
One.
Labels: lose, scratch card, win