Keeping Firemen Busy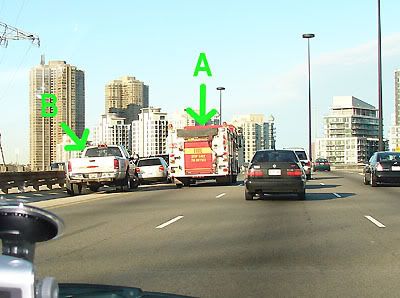 On Saturday
night we travelled to Toronto to have a nice dinner with our friend Tonton, following the directions spoken by our sweet silver
NAV-U GPS
, which we've dubbed "Lady". And yes, the Styx song routinely gets sung whenever we say her name.
Anyway
, about ¾ of the way there I noticed a fire engine in my rearview, lights blazing.
I've never had
a fire engine blast up my rear end on a six-thousand lane highway, so I wasn't sure what to do. Some people were pulling over, while others were slowing down. I was in the middle and had nowhere to go, so I slowed down and let the truck pass me.
Within
3 seconds, literally, the fire engine (A) stopped in front of us, partially blocking our view of the accident and the tow truck (B) who, not-surprisingly, greedily arrived at the scene first.
It would seem
that Jimmy Dillnuts, driving a VW Golf this time, decided he didn't want to use his brake pedal, and gave a Nissan Murano his patented move -
a good butt-ramming.
From what I could see as I rubbernecked, the Golf suffered extreme damage to the hood and bumper area while the Nissan was relatively unscathed.
After dinner
with Tonton, we sped through the downtown in his diesel Golf, and landed at the trendy Foundation Room. It was dope. When we left I snapped
this picture
of a Chrysler 300C whose owner decided parking on the sidewalk was trendy.
Toronto.
I should go there more often. I'll get great accident photos because the entire Dillnuts family must live there.
Labels: accident, crash, Jimmy Dillnuts, toronto