Spring Crash #2, in F Major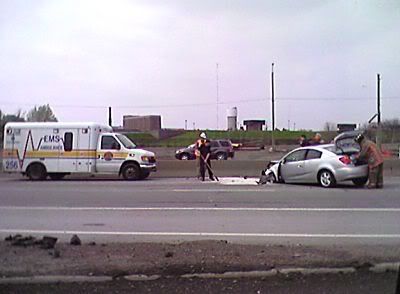 Incredible as it may seem, Jimmy Dillnuts cannot be stopped. It doesn't matter where you drive, be it city streets, quiet neighbourhoods or the highway. You will not escape Jimmy.
With her shit-ass 1 megapixel camera phone, my sister caught the devastation of Jimmy Dillnuts following in the wake of
Saturday's accident.
Yesterday morning she emailed this picture to me.
The Saturn Ion
, or Hyundai Accent, or whatever the gosh darn heck this little silver wreckage is, appears to be
another victim
of the carnage-hungry Jimmy Dillnuts.
The vehicle
is missing at least one front wheel, as you can see from the way the front of the car sits much, much lower than the back of the car. The engine compartment is munch-city, the hood is dented and the bumper has a scratch.
Firemen
were busy at work here, earning the money they will use to buy their bacon bits for their fancy salads. As one fireman pulled the bodies of the dead midgets from the trunk another swept the sand they use to absorb the blood from the highway. Blood, you see is slippery, and the police don't want other motorists to slide in the blood and cause another crunchy accident.
In order
to stop accidents like this, police should be more strict in the suspension of people's licenses. Following a second incident, idiot drivers should be electronically tagged and monitored. On the third offense, they should be swatted on the nose with a rolled up newspaper and have pickled eggs popped up their butts.
Unless
, of course, they like that kind of thing.
Labels: accident, crash, Jimmy Dillnuts