SHOs Over Folks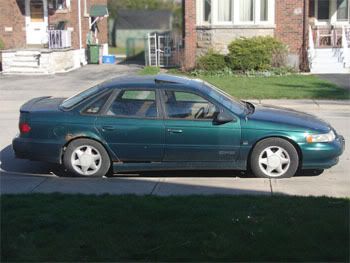 Goodbye awesomeness.
Goodbye rust. Goodbye useless CD player. Goodbye
broken windshield.
The Taurus SHO is gone. I sold it Tuesday night.
My dad
tried to sell his SHO about 2 years ago, before the windshield cracked and the rust army overtook fort fender in the battle for the sheetmetal stronghold. He wanted $1500 for it, and it was worth it. People came, people looked, people left. No offers.
I put an ad
in the paper last week for it, asking $700 and stating the honest truth – 327,000 kms. It's a quick way to weed out the tire-kickers, as my dad wanted rid of it so badly that he was on the verge of giving it away to his hot-rod building cousin, to see if he could transform it into something wild.
We didn't
get any calls for the first few days, then, suddenly, I was barraged with potential buyers on Tuesday. I had two messages, and one fellow who was willing to buy it sight-unseen, albeit for half the price we wanted. While I was negotiating with him and his hostages, another SHO-hunting dude left a message. And while I was between calls with the 1 st buyer and my dad, another interested buyer telephoned. I had to tell him, "
It's sold you retarded-ass mofo! Now get off my dang phone!"
A price war would have been nice, but nobody would go that far once I told them about the windshield. Most didn't mind the rust – in fact, they expected as much. There was even one man, who may or may not have been wearing ladies undergarmets, who called after it was sold and said, "
windshield-schmindshield. I'm a convertible kind of man-girl.
"
Regardless of what the other Tuesday night bargain-hunters wanted, the SHO was sold to a dude whose only concern was how much gas was in the tank. Now she's gone. And she SHO will be missed. Hyuk.
Labels: Taurus SHO