Wicked Ass Training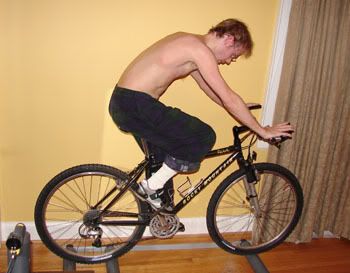 Last night
I rode 7.3 miles, (nearly 12 kms) – in my bedroom. I'm training for the
Becel Ride For Heart
on Toronto's Don Valley Parkway for June 3rd.
Since I
can't walk anywhere anymore due to my stupid-ass "disease" I've started to get seriously out of shape. To rectify that problem I patronized a local bicycle emporium and puchased a Tacx Ecotrack Roller. It's a pretty sweet trainer with its tiny PVC rollers which put it close to the floor, allowing for ladderless bike mounting.
Given
the progression of the stupidity in my feet, I figured this might be my last chance to do something like this.
Anyway
, after 12 kms my buttcheeks gave out. My hard-as-concrete Vetta Lite seat with its patented "sheet of paper" padding just plain sucks. Granted, it's as light as an empty juice box, but the pain in the derriere isn't worth the weight savings.
The ride
I am doing is 50 kms. My stick legs are capable of making the trek, but it's my ass I'm worried about. I can't even ride half the distance now, and the Becel Ride For Heart is only 18 days away.
I've come
to the conclusion that the training I'm doing isn't for my legs, my heart, or stamina. It's conditioning for my ass.
Labels: Becel Ride For Heart, rollers, training