Mr. Miyagi Cursed Me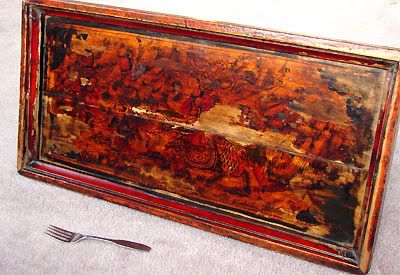 Blogs are
coming at a slower pace these days. And they're about to get slower. It's true that Suz and I are both working longer days, and we're spending more of our spare time doing fun stuff - like shopping for neat-o Chinese antiques like this painted wooden platter which was stolen from Mr. Miyagi's family 6 generations ago. But the main reason blogs are on a decline is that my doctor has ordered me off the keyboard due to severe carpal tunnel.
As I await
my surgical consult, I am still finding a few happy things in life. On the weekend Suz and I traversed miles of heat-stroked asphalt to pay
Kuda Furniture
another visit.
Although
it was still nifty, our first time was far more impressive. There were more antiques available, and when we couldn't find exactly what we wanted, they gave us a tour of their freshly filled warehouse where we found
our Chinese Buddha cabinet.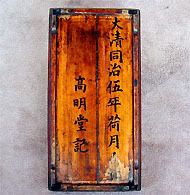 On this
particular visit, with a 25%-off invitation clutched in my sweaty hand, we excitedly toured the newer, smaller, better-located, less warty store. We were nearly out the door when one piece caught our collective eye.
The antique platter
had a really
great scene
painted on it, although a key area in the centre was damaged. On the reverse side was a surprising message, painted 120 years ago. What is says is unknown to me.
Could anyone
tell me what the reverse of our platter says? Before you fill my comments with things like "
That's Chinese for 'Wal-mart, fake Chinese antique'
" jokes, think how you might break this news to me in a more gentle way.
Although there are
unscrupulous business people everywhere, I have no reason to believe this isn't real. But I suppose it's possible that it says "
Thanks for your money you English-reading sucker.
" or maybe, "
This platter has been stolen from Qwan-Lo's Fish & Chips.
" But I think "
the curse of Mr. Miyagi will befall anyone caught with this beloved family heirloom soaked in the blood of a thousand kittens
" is as logical as any.