Point of View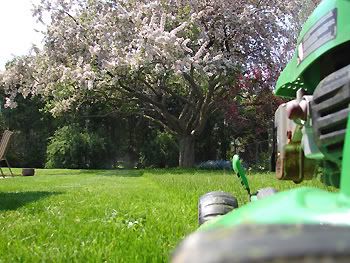 Now that
I'm doing less work at work, and feeling quite useless, I am starting to have a different point of view on things, which hardworking CEOs might find to be akin to laziness.
I am
the farthest thing from a lazy person. Ask the stairs I use. Ask the weeds I pull. Ask the dust particles that have snuck their way inside the tiniest crack on my model of Deep Space Nine... Nevermind that last one.
I can't
sit still. If Suz and I are relaxing on the patio with tasty drinks, within minutes I've pulled the lawnmower out. And if she pointed out that the lawn didn't need cutting, I'd pull out the old Turtle Wax and start doing a 'Karate Kid' on the mower.
The lawnmower wants
to cut the lawn. It's its reason for being. If it's sitting idle, its design and engineering are useless and pointless.
I want
to work, but I'm on doctor's orders to steer clear of keyboards until my surgical consult in August. But with the combination of a heavy dose of CTS and searing burning in my feet, I am being forced to take a break.
And I
hate it. I don't want people to think I'm lazy, but at the same time, I've decided that I don't care if they do. There IS a difference between relaxing and being lazy. And I will never fall into the category of the latter.
Labels: carpal tunnel, lawnmower