Native Protest Backfireage
The Native protest
along highway 401 on Friday was supposed to cause traffic jams (above), but the blockade was no match for technology... or the police.
The delicious
blending of design and efficiency that is our Honda Insight forced the Natives into a collective burst of joy. Joy which resulted in tears. Tears of joy. And what happens when tears well up in your eyes? You can't see.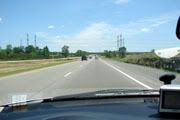 And that's when
the smooth-talking police negotiators jumped in and cleared the highway for us, so that we could achieve a super-awesome
76 mpg
(3.7L per 100km) average. We were expecting a Rosie O'Donnell size traffic jam, but instead the 401 looked like this. To all the shmoes who got detoured onto highway 37, I only had this to say: so long suckers. Serves you right for waking up early, trying to beat the jam.
In fact
, the only reason we ran into a traffic jam as seen in the main picture is because everyone was rubbernecking to see
this totally wicked burned-out transport.
Not because of the protest.
The Native protest
backfired. And here's why. I used to be on their side. I used to feel badly for their situation and the deal they got in the past, by our government, to place them in that situation today.
They say
they were trying to make the rest of Canada feel their inconveniences and frustration, but essentially, what they did was to alienate and anger the rest of Canada.
Last I checked
, causing frustration and anger among your friends is not a good thing. Like the old cliche goes, why would you need enemies when you've got friends like this?