Just Plane Fun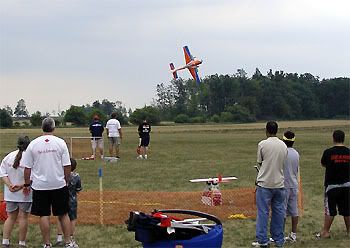 Not long ago
I accompanied my pal
ST3
, whom you might remember from the
Eggies vs. Mini Eggs contest
, to an R/C plane club. He was excited to go because he had purchased a plane and needed to get his licence to fly it.
R/C planes are wild.
They are far more capable than any real aircraft, able to nearly hover in place like a helicopter and perform mind-blowing and head-exploding stunts, especially at the hands of an experienced flyer with plenty o' battery power.
Even though
it was raining this day, the juice was still flowing through the planes, bringing applause from the wet audience which contained mothers, fathers, kids and nerds.
When we left
, the sponsors were handing out prizes and awards for the best flyers. I threw a paper airplane onto the field, but was disqualified because I didn't pre-register.
A few days later
I followed ST3 to a cemetery where he flew his R/C plane high above the decomposing bodies and potential Zombies. Only a few seconds passed before he nose-dived his plane straight into the Zombie-patch, earning him the Martini award for most spectacular, money-wasting crash.